The party in Bratislava never stops and this time we bring you a Carnival Party! Come to The Club on February 15th and experience the best the city has to offer! Meet international people from all around the world and enjoy our free welcome drink while dancing to the latest tracks by DJ Maghi.
The party is in carnival style, so you are welcome to come in disguise but if you don't have a mask – don't worry – we will give you one for free ? If y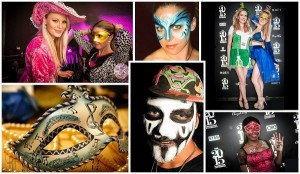 ou come dressed up, watch out for our judges who will be picking the 7 best costumes of the night with great prizes! And if you're shy, you can also change when you arrive at the club.
So, what are you waiting for? Join us for a night of fun, dancing, prizes, meeting new people, quality drinks at a great venue and the best music!
ENTRY
Every entry fee includes a welcome drink, raffle ticket and a mask.
Girls before 22:30 Free
Girls after 22:30 4,50 €
Men all night 6 €
Students with ESN card all night 3,50 €
Students with ISIC card all night 4 €
If you have a birthday between 10-20.2.2018, you get free entry (you need to show ID)
Dress code:
You are welcome to come in any disguise but costume is not mandatory to attend.
Tip: Don't forget the 7 best costumes of the night competition!
Prizes include: annual ticket for all Internationals parties, vodka bottle service at The Club, a bottle of Prosecco, monthly tickets to Pilates, Zumba and Bodyworkout in English and free tickets to the next International party.
Drinks Special offer:
Cocktail Cuba Libre 3 €
Sex on the Beach 3 €
Bottle Service – Vodka – 55 €
For questions or table reservations, write us: info@internationals.sk
Your Internationals Bratislava Team