The very first exhibition for true gentlemen, called "GENTLEMEN'S EXPO", will be held on 9th September in Bratislava. Fashion, business, sports, or premium alcohol – all can be found at one place in the Mozart House on Ventúrska Street.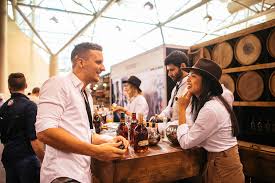 The aim of this exhibition is to show to modern man stylish news, high quality brands and a sophisticated view on the present time by renowned gentlemen. "We want to focus on men who are interested not only in themselves but also in the rapidly changing life around them. Men, who know what the want and what they expect from life. It is not easy to define the age limit as 18-years-old and 45-years-old men are often interested in similar things, only the point of view changes with their maturity. Therefore we want to give them the best of the best, what today's lifestyle offers to men", the GENTLEMEN'S EXPO organizer and founder Tomáš Sabol explains the idea.
What is the exhibition going to contain? Four big congress halls, two atriums and Fach Coctail Bar will be deployed in that way, so every man can experience each part of his day again. Morning coffee, clothing to work or for free time activities, lunch break with quality food and inspirational magazine, post-work sport activities, alcohol drinking evening with a bunch of friends or cologne used for date or work meeting. It is the 0th year – however, the founder has several years of previous experience.
"I worked mostly with male brands for many years and my events were also focused in this way, therefore the idea of doing Gentlemen's Expo was not a challenge for me but determination. The huge kick-start for me was my girlfriend, who has had many successful exhibitions before, in her case with a purely feminine theme. Then I got the idea of doing something only for men, not just individually focused exhibitions but complex exhibition focused on men, where they find everything under one roof", Tomáš explains the origin of the exhibition.
Except of introducing various specific brands, visitors can look forward to inspirational lectures led by prominent men who are not just talking about success but they are also experiencing success in real life. "Nowadays, people are very specific, they are chasing visible success, money and they often forget about real values. That's why I would like to point out at the exhibition also another kind of success that is not presented in television or among celebrities but the one based on people's real stories. They don't have a million followers or likes on social networks but they belong to the top in their field. Therefore I am honored that my father accepted the invitation to lead the lecture and as the businessman with 20 years of international experience tells his story. He survived the serious accident, became disabled but didn't give up and after 2 years of hospitals and healing, he built up again what he almost lost. He went even further than before the accident and today he is training and motivating thousands of people," the organizer says proudly.
The exhibition fully filled with different interesting stuff for men will offer beside the brands and gastronomy also inspirational space called "Gentlemen's Couch" – there will be held many lectures about success, business and lifestyle during the day. In September, at one place, at the Gentlemen's Expo, men will get what they need to be true gentlemen again. "No need to say how to become one, but how to be one! Everybody is welcome to show not only to ourselves but also to women that true gentlemen are still not dying out," concludes the founder and organizer Tomáš Sabol.
GENTLEMEN'S EXPO
Tickets: pre-sale.zoznam.sk/en/listky/11609/gentlemen-s-expo
More information:
www.gentlemensexposk.com
www.facebook.com/gentlemensexpo.sk
www.instagram.com/gentlemensexpo_sk
SOURCE: Jana Trellová, PR Manager