We are professional team of excited young people. We love what we do and that´s why we give our best organizing various events for every taste and age group including festivals. parties, trips, gatherings, networking events, charity events, sport events (pilates, zumba, bodyworkout), educational and creative workshops, even activities for children or spiritual events (meditation, yoga, belly dance, gong bath, workshops). All events are open to public and guided in English. In case of necessity we can provide translation to Slovak and some other languages
Like what you see? Want to try our services ? Contact us on: info@internationals.sk. With great pleasure we will organize a perfect event for you ;)
You can find all our events in the Eventland mobile app as well – download for free here: www.eventland.eu

Slovak for foreigners – Free trial lesson on 23.1
Monday, 23 January, 2017 @ 18:30 - 19:15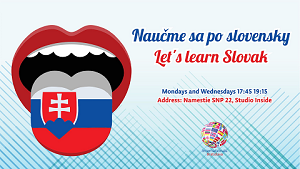 FREE trial lesson on 23.1 – beginner level – only 8 spots – you need to make reservation via info@internationals.sk
after trial lesson you decide if you want to continue with the course or not – no prepayment
Let's learn Slovak! We offer you the best price in the town and learning in a nice profesional environment. Beginner course with professional experienced teacher. Group of 5-8 persons.
Course lasts 56 hours in total, two times per a week, Mondays and Wednesdays fro 17:45 to 19:15
All materials and refreshments (tea, coffe, fruits, sweets) on the course included.For the course you need to make reservation at: info@internationals.sk,
Where: Studio Inside, Namestie SNP 22
Price:
229 EUR standard price
195 EUR reduced price 15% for: students under 26 with valid ISIC or ESN card, retirees, teachers, persons older than 60 or younger than 18, mothers on maternity leave – as a proof you will need to show valid document on the first lesson – Valid ISIC card – if student, ID if younger than 18, older than 60
There are 2 possibilities how to pay the course
1. one time charge 229 eur or 195 eur – by 25.1.2017 – cash or via-ebanking
2. Two installments (10% more expensive – in total 251 or 214 eur) – first installment 50% by 25.1.2017 and second installment 50% 17.2.2017 – cash or e-banking
This dynamic course includes weekly conversation activities about everyday topics designed to increase students' confidence in speaking Slovak in a fun and comfortable atmosphere.
Media partner: www.welcometobratislava.eu
Class description
This course focuses on:
+ Conversation (Speaking & Listening skills)
+ Everyday Vocabulary Building
+ Speaking Accuracy & Fluency
+ Pronunciation
Taught by teacher Vladimira Kasikova – certified teacher for Slovak language with 11 years of practice
About Vladimira:
Why do I like teaching?
Teaching has to be one of the most rewarding jobs in the world. Knowledge is power.
I guess teaching is giving positive energy once someone has learnt something new. The knowing that you have helped makes you feel better and happy. Patience is a key and I still remain calm when other flip which them positive energy also. Well there you go that's why I like teaching.
The focus of the course is to improve students' conversation skills and to activate learned grammar structures and vocabulary in speaking.