We are professional team of excited young people. We love what we do and that´s why we give our best organizing various events for every taste and age group including festivals. parties, trips, gatherings, networking events, charity events, sport events (pilates, zumba, bodyworkout), educational and creative workshops, even activities for children or spiritual events (meditation, yoga, belly dance, gong bath, workshops). All events are open to public and guided in English. In case of necessity we can provide translation to Slovak and some other languages
Like what you see? Want to try our services ? Contact us on: info@internationals.sk. With great pleasure we will organize a perfect event for you ;)
You can find all our events in the Eventland mobile app as well – download for free here: www.eventland.eu

Pilates in English on Mondays
Monday, 12 December, 2016 @ 20:15 - 21:15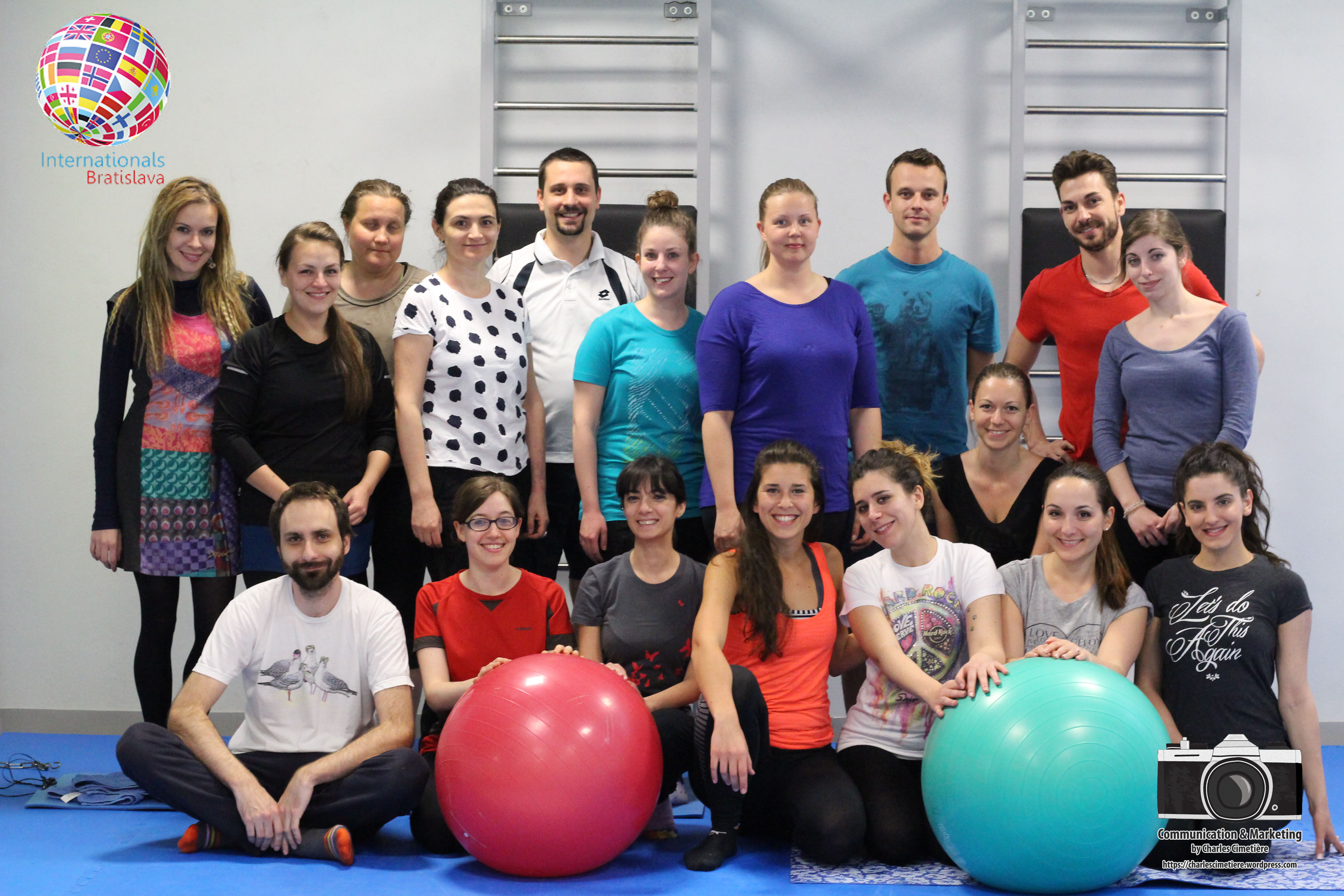 You need to make reservation via pilates@internationals.sk – class is always almost full and without reservation you are risking to get your spot.
We exercise Pilates every Monday at 20:15 (we have one other Pilates class and many other sport classes and events in English, check it out here: http://internationals.sk/events)
This is our Pilates video from last semester: https://www.facebook.com/InternationalsBratislava/videos/1390002514349893/
Lesson is guided in English (with partial translation to Slovak if necessary). Spots are limited so you need to make reservation in advance via pilates@internationals.sk. We have enough yoga mats, i.e you do not have to bring your own, but if you want feel free to. Showers, fruits, tea, water are on disposition for free. Free parking in front of the place (limited spots, you need to arrive a bit earlier, we do not guarantee 100% you will get it, public transportation is much better)
Pilates is a method of exercise and physical movement designed to stretch, strengthen, and balance the body.
When? – Every Monday at 20:15 (60 minutes)
Where: Fitness Fanatix, Dunajska 23
Prices and type of tickets:
one time ticket – 6.5 eur
1 month ticket (4 times) – 22 eur (5.5 eur per a lesson)
It is not possible to skip the lessons in one month card– however you can share your ticket with the friend in case you can not attend or max once per a month you can exchange one Pilates lesson for one other training from our offer (needs to be announced 10 hours in advance via email before the pilates training that you are skipping and if the training is more expensive you need to pay the difference) – check our offer here: http://internationals.sk/events/
Feel free to contact us with any kind of questions at: pilates@internationals.sk, we will respond within 24 hours
Instructor: Andrea Peniakova, certified pilates instructor —>www.peniakova.com
Media partner: Welcome to Bratislava —> www.welcometobratislava.eu