We are professional team of excited young people. We love what we do and that´s why we give our best organizing various events for every taste and age group including festivals. parties, trips, gatherings, networking events, charity events, sport events (pilates, zumba, bodyworkout), educational and creative workshops, even activities for children or spiritual events (meditation, yoga, belly dance, gong bath, workshops). All events are open to public and guided in English. In case of necessity we can provide translation to Slovak and some other languages
Like what you see? Want to try our services ? Contact us on: info@internationals.sk. With great pleasure we will organize a perfect event for you for a symbolic price – money we gather from organizing events we use to support our community (free workshops, office supply, marketing).
You can find all our events in the Eventland mobile app as well – download for free here: www.eventland.eu

Zumba in English every Tuesday 19:30
Tuesday, 16 May, 2017 @ 19:30 - 20:30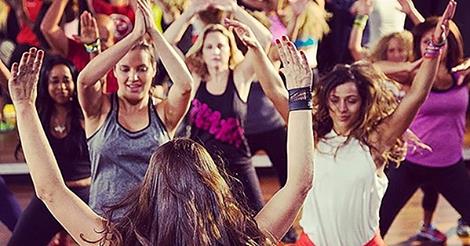 Class is held every Tuesday at 19:30
Where?  —> Centrum Radost, Lycejna ulica 4
You need to make reservation via info@internationals.sk – feel free to send us also any kind of questions
Course will last till 16.5.2017
Prices
1 time entry – 6  eur
Do you know what is Zumba? Fit has never been this fun! It is not a dance class, it is a party! No one is judging you by your dance abilities, just have fun, dance to great music, with great people, and burn a ton of calories without even realizing it.
Katka (our teacher) is certified Zumba instructor for almost four years and even though she found Zumba by coincidence, for her it was love on a first sight. During approx. five years it helped her not only by physical side, but mostly by psychical side. She could have tons of problems, when she came to the class, she left all behind the door. After two years of attending on Zumba lessons at her home town I realized that she feel comfortable enough to move on, so she found instructor training and made a certificate. During her first year as Zumba instructor she had 5 classes per week and learnt how to work with people, improved herself and felt in love with it even more. What is the best part of being Zumba instructor? 'Energy sparkling from all the people, who are repeating my steps, smiling and enjoying the lesson. To see that they are improving, getting into rhythm, getting more flexible, getting moves more smooth… And when they come after lesson to me with a big smile and say it was great, they had fun and forgot their troubles. This is the biggest worth of it.
Media partner: Welcome to Bratislava —> www.welcometobratislava.eu