We are professional team of excited young people. We love what we do and that´s why we give our best organizing various events for every taste and age group including festivals. parties, trips, gatherings, networking events, charity events, sport events (pilates, zumba, bodyworkout), educational and creative workshops, even activities for children or spiritual events (meditation, yoga, belly dance, gong bath, workshops). All events are open to public and guided in English. In case of necessity we can provide translation to Slovak and some other languages
Like what you see? Want to try our services ? Contact us on: info@internationals.sk. With great pleasure we will organize a perfect event for you for a symbolic price – money we gather from organizing events we use to support our community (free workshops, office supply, marketing).
You can find all our events in the Eventland mobile app as well – download for free here: www.eventland.eu

Summer course of Slovak language
Tuesday, 10 July @ 8:00 - Thursday, 23 August @ 17:00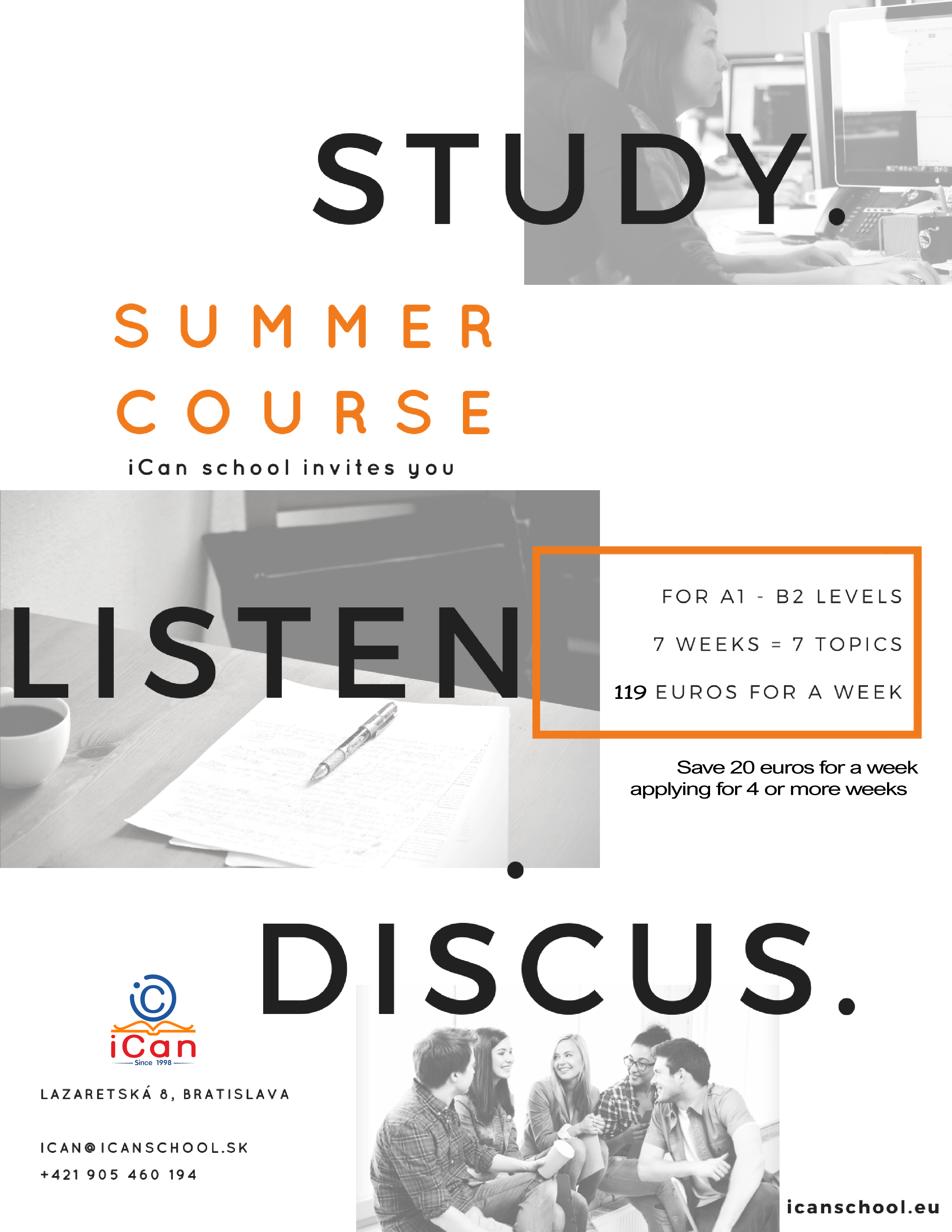 Study Slovak with fun!
Don't wanna spend hours studying boring grammar? Expect great results in a short time?
SUMMER COURSE at iCAN is the course you are looking for!
This course is suitable for both beginners and advanced, for tourists who just looking for some fun and foreigners who want to improve their vocabulary.
The summer course is divided into 7 weeks from the 9th of July till the 23rd of August. Each week has it's own topic. Talk about family, Slovak nature, restaurants and shops, health and human body or even about the business.
Conversational summer course of the Slovak language will take place from Monday till Thursday.
The price is 119 euros for a week!
You can register for the whole course or even only for a one week! But pay your attention: applying for 4 or more weeks of the summer course you will pay only 99 euros for a week!
Contact us to find up more information!
Email: ican@icanschool.sk
Tel.: +421 905 460 194