We are professional team of excited young people. We love what we do and that´s why we give our best organizing various events for every taste and age group including festivals. parties, trips, gatherings, networking events, charity events, sport events (pilates, zumba, bodyworkout), educational and creative workshops, even activities for children or spiritual events (meditation, yoga, belly dance, gong bath, workshops). All events are open to public and guided in English. In case of necessity we can provide translation to Slovak and some other languages
Like what you see? Want to try our services ? Contact us on: info@internationals.sk. With great pleasure we will organize a perfect event for you ;)
You can find all our events in the Eventland mobile app as well – download for free here: www.eventland.eu

Summer course of Slovak language
Monday, 1 July, 2019 @ 8:00 - Thursday, 1 August, 2019 @ 17:00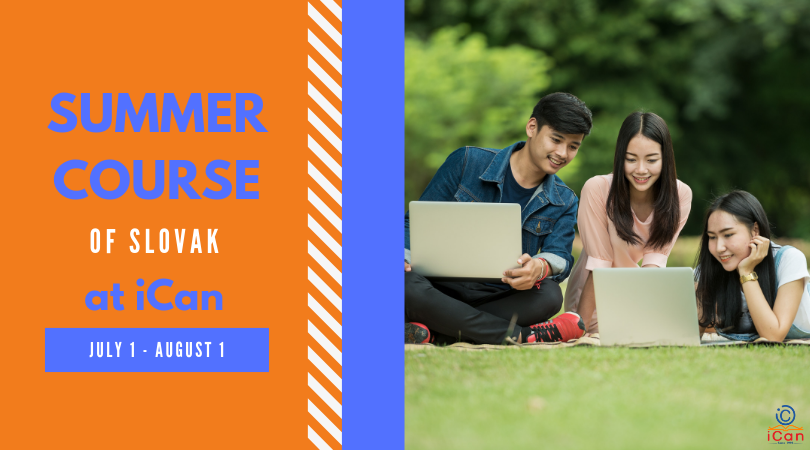 Spend Summer in Bratislava with advantage!
Our language school open new season for Summer course of Slovak language.
Cold winter finally ended and we already have a plan for Summer. Do you want to learn or improve your Slovak? Stop postpone and do!
Learning languages can be fun when you do it in Bratislava where everyone can find something to entertain yourself. It's a great season for festivals and music events.
We invite you to start the action in iCan School!
What does it involve?
Course is divided into 5 topics – 1 week = 1 topic.
You will learn how to:
–          present your family members and yourself,
–          communicate with real estate agents,
–          order a dish in the restaurant or buy anything you want in the market,
–          buy tickets or ask somebody to show you a way while travelling,
–          ask for the refund if you are not pleased with the good or the level of service,
–          explain to the doctor what hurts you,
–          build the career or do business in Slovakia or find out more about life of foreigners in Slovakia,
–          and more useful things that will help you to integrate the Slovak society.
When?
1st of July – 1st of August
Intensity
4 study hours for 4 days a week
How much does it cost?
119 euros/week
Also, we have some great offers for you!
Make registration for 4 and more weeks and pay only 99 euros/week!
You can buy the course till the 31 of MAY, 2019 and will get an additional discount for the first instalment – 10%!
Hurry up to apply! The number of seets is limited.
Email: ican@icanschool.sk
Tel.: +421 905 460 194