We are professional team of excited young people. We love what we do and that´s why we give our best organizing various events for every taste and age group including festivals. parties, trips, gatherings, networking events, charity events, sport events (pilates, zumba, bodyworkout), educational and creative workshops, even activities for children or spiritual events (meditation, yoga, belly dance, gong bath, workshops). All events are open to public and guided in English. In case of necessity we can provide translation to Slovak and some other languages
Like what you see? Want to try our services ? Contact us on: info@internationals.sk. With great pleasure we will organize a perfect event for you for a symbolic price – money we gather from organizing events we use to support our community (free workshops, office supply, marketing).
You can find all our events in the Eventland mobile app as well – download for free here: www.eventland.eu

Internationals Bratislava Welcome Back party
Thursday, 27 August, 2015 @ 22:00 - 4:00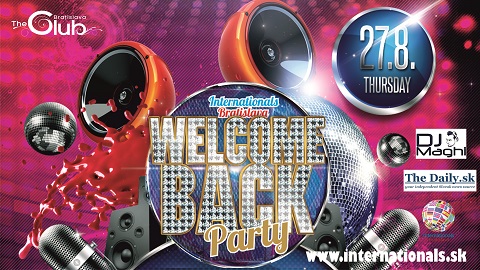 Dear friends of Internationals Bratislava,
So excited to gather you all again after summer! Its for anyone that wants to socialise and have some fun and meet people from all over the world.
Everyone is welcome and you can also bring your friends!
Entry fee (every entry includes a welcome drink, raffle, sweets flag sticker and many other surprises)
Girls for free before 23:00
Girls after 23:00 3 EUR
Students whole night 3 EUR
Standard entry fee 5 EUR

If you have birthday on 26th, 27th or 28th of August you have a free entry – of course you need to show your id
Do not forget to arrive to the party before 12:30 AM and take part in our raffle!
Prizes are:
1st prize – Slovak for foreigners language course whole semester (66 hours) –> https://www.facebook.com/events/425396244310868/
– (if you already speak Slovak possibility to exchange it for party yearly ticket)
2nd prize – Yearly ticket for all Internationals Bratislava parties (more than 15 parties)
3rd prize – Bottle service vodka in The Club Bratislava worth 55 eur
4th prize – 1 bottle of Borgo Molino Prosecco, High Quality Italian Wine fromwww.Superlativo.sk
5th prize – ticket for International trip to Brno 19.9 —>https://www.facebook.com/events/1475443009433988/
6th prize – 3 tickets for upcoming International party
Special offer :
Cocktail Cuba Libre 3 eur
Sex on the Beach 3 eur
Bottle Service – Vodka – 55 eur
Media Partners:
The Daily sk: www.thedaily.sk
Welcome to Bratislava
Dj Maghi Tn
Any info, table reservations: info@internationals.sk – we will respond within 5 hours
Internationals Bratislava team