We are professional team of excited young people. We love what we do and that´s why we give our best organizing various events for every taste and age group including festivals. parties, trips, gatherings, networking events, charity events, sport events (pilates, zumba, bodyworkout), educational and creative workshops, even activities for children or spiritual events (meditation, yoga, belly dance, gong bath, workshops). All events are open to public and guided in English. In case of necessity we can provide translation to Slovak and some other languages
Like what you see? Want to try our services ? Contact us on: info@internationals.sk. With great pleasure we will organize a perfect event for you ;)
You can find all our events in the Eventland mobile app as well – download for free here: www.eventland.eu

International trip to castle Smolenice, Driny cave and Trnava
Saturday, 17 June, 2017 @ 8:40 - 19:00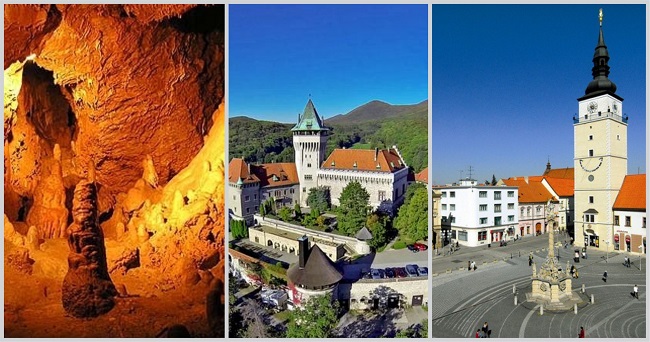 Capacity of this trip is 19 persons – if you want to get your spot hurry up with reservation via info@internationals.sk . It is organized tour with private bus and the fee needs to be paid in advance.
Visititing: Castle Smolenice, Driny Cave, city of Trnava.
When: 17.06.2017, leaving Bratislava around 8:40 am and coming back around 7 PM
The fee for the trip is 18 EUR before 10.6, after 10.6 25 eur. This fee includes transport, and snacks in the bus, guidance in Trnava. Fees for castle (3 eur), and cave (6 eur)are not included in the trip fee – they are optional. . First step for your reservation is to confirm it via email: info@internationals.sk after that we send you payment details.
Agenda:
8:40 – we leave Bratislava
10:15- 11 guided tour of Driny cave – price is 6 eur
12:15-13 – guided tour of Smolenice castle – price is 3 eur
13:45-15:30 – lunch – will be confirmed soon, a la carte you pay your own consumption
15:45-16:45 – guided tour of city of Trnava with local guide in English
16:45-18 – FREE time or we go together for a drink
19- Arrival to Bratislava
Meeting point: in front of hotel Park in Danube, Most SNP, we will send you the map via email.
Please confirm your arrival by writing to: info@internationals.sk where you will get also the payment instructions. Accepting invite on fb does not mean confirmed reservation. Thank you
Media parter: www.welcometobratislava.eu
Find this and many other events in this free event mobile app:www.eventland.eu